5 Best Business Books from my Leader's Library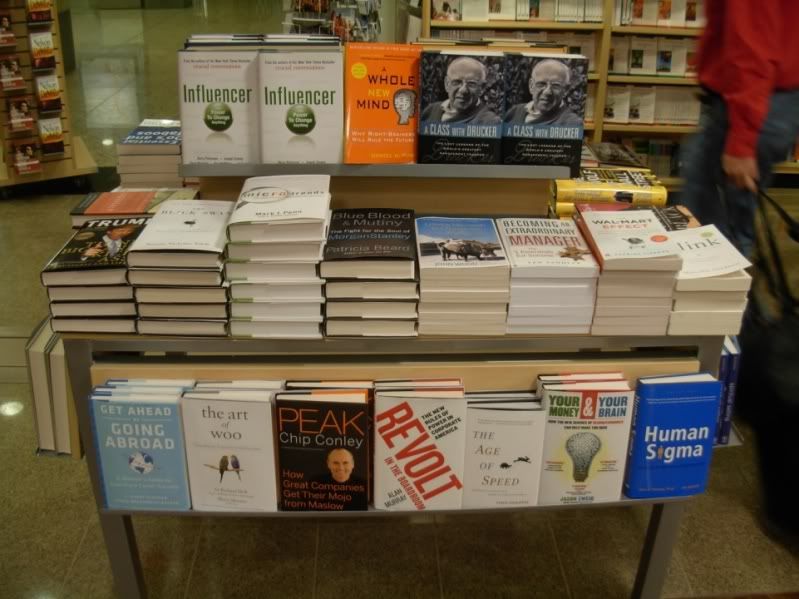 As many of you know, I am a voracious reader and business book junkie.  For me, the best part of any trip that involves flying is buying business books at the airport.  Airport bookstores cater to business travelers and they have a great selection of the latest business books.  (Did you know that there are 11,000 business books published a year?)
With so many choices where should you begin, if you are looking to get inspired, brush up your business, or improve your work culture?  To answer that question, I went to my leader's library and picked the 5 most dog-eared, marked-up books off my shelves.  They aren't the hottest new books, but I think they are must-haves.
This book teaches you the five practices of exemplary leadership:  Model the Way, Inspire a Shared Vision, Challenge the Process, Enable Others to Act and Encourage the Heart.  What I really like about this book is that the ideas are based on years of research that was done from the perspective of Appreciative Inquiry:  They asked exemplary leaders what they did best!
"There's still another crucial truth about leadership … something that we have known a long time, but we've come to prize its value even more today.  In talking to leaders and reading their cases, there was a very clear message that wove itself throughout every situation and action:  leadership is a relationship.  Leadership is a relationship between those who aspire to lead and those who choose to follow."
The Great Place to Work Institute, known for producing the Fortune 100 Best Companies to Work For Annual List (just in case you're curious, Google was #1 on the 2012 list) and the Best Small and Medium Companies to Work For in America, draws on decades of research and distills in a clear and easy to understand way what the great places to work do to create their distinguished business value.
"More than offering great pay and quirky perks, a great workplace is one where employees trust the people they work for, take pride in what they do, and enjoy the people they work with."
Research about successful organizations suggests that the woman leader has the natural talents that cutting-edge organizations demand: an innate ability to collaborate, a deep concern for others and the capacity to develop participatory, inclusive management structures.  Despite this, women tend not to be hired for these capacities; worst yet, they are made to feel as though they should curb their appetite for leading organizations with these assets.  Sally Helegesen set out to find why this is and what women leaders should do about it.  This is a must-read for any woman leader who finds herself in a man's world.
"As women's leadership qualities come to play a more dominant role in the public sphere, their particular aptitudes for long-term negotiating, analytic listening, and creating an ambience in which people work with zest and spirit will reconcile the split between the ideals of being efficient and being humane."
In our fast-paced, multi-tasking world it is easy to get swept away by the latest gadget or gadfly and ignore our most important resource: our capacity to think critically.  Maxwell believes that successful people think differently and has developed practical and elegant prescriptions for a range of thinking challenges, including:  when you are stuck in the weeds and need to get the big picture, when you can't get out of the box and need to be creative, when you are faced with what seems like impossibilities.  Those are few of the issues that he tackles that I especially like, but he has many more.
"Learning how to master the process of thinking well leads you to productive thinking.  If you can develop the discipline of good thinking and turn it into a lifetime habit, then you will be productive all of your life.  Once you've created, shaped, stretched, and landed your thoughts, then flying them can be fun and easy."
This how-to manual for nonprofit leaders is designed to support progressive nonprofit organizations get great results.  I appreciate that the authors have used research from what I consider some of the best and applied it to the realities of the nonprofit world.  It is full of sample templates and communications that will guide you in managing the work, people and yourself at the level that a nonprofit deserves.
"The world of nonprofits is so important that we need to be more hard-nosed about management than businesses."
What are your favorite business books and why?  Love to know what they are—a business book junkie is always looking for a new fix!
P.S. Thank you for purchasing a book from the Leader's Library. All affiliate money we earn from your purchase is used to underwrite coaching for nonprofit leaders.
If you would like a complimentary coaching session to pick my brain about a business challenge you are facing I hope you will give me a call or schedule a session on my online calendar.
BCC Board Certified Coach #1487